With only a few weeks left for the completion of the Twin-Control project, coordinator Mikel Armendia from IK4-TEKNIKER summarizes the past three years of this ambitious initiative. According to Mikel, the "Digital Twin" concept is becoming popular but most available tools still show the same drawbacks, mainly lack of integration of different features. Twin-Control, which is now undergoing its final industrial validation activities, has been successful in this aspect, thanks to its multidisciplinary vision.
Please remind us about the characteristics and objectives of Twin-Control project.
Twin-Control is an EU funded project that deals with the application of ICTs in Machine Tool industry. Different features linked with simulation, monitoring and control of machine tools and machining processes have been developed and validated in industrial environments.
The project has lasted for three years and has a budget of 5.6 M€. The consortium is formed by 11 partners, including research institutions, universities, SMEs and big industrial companies.
How would you describe the work dynamics established throughout the project?
Twin-Control project has evolved as expected and the initial planning has been followed. Periodic face to face meetings every three months have help to this success. Apart from that, continuous communication by phone, email and even more frequent telco's have been performed.
Have there been any setbacks in the process, and how did you overcome them?
As mentioned, the project has followed the initial plan and the consortium has not faced big unexpected problems, apart from the technical challenges of the project.
Which were the most satisfying aspects working in this project?
In this project, all partners have learnt a lot about applied ICTs in manufacturing industry, which is a rapidly growing field. Apart from that, all participants have enriched others by providing their particular expertise.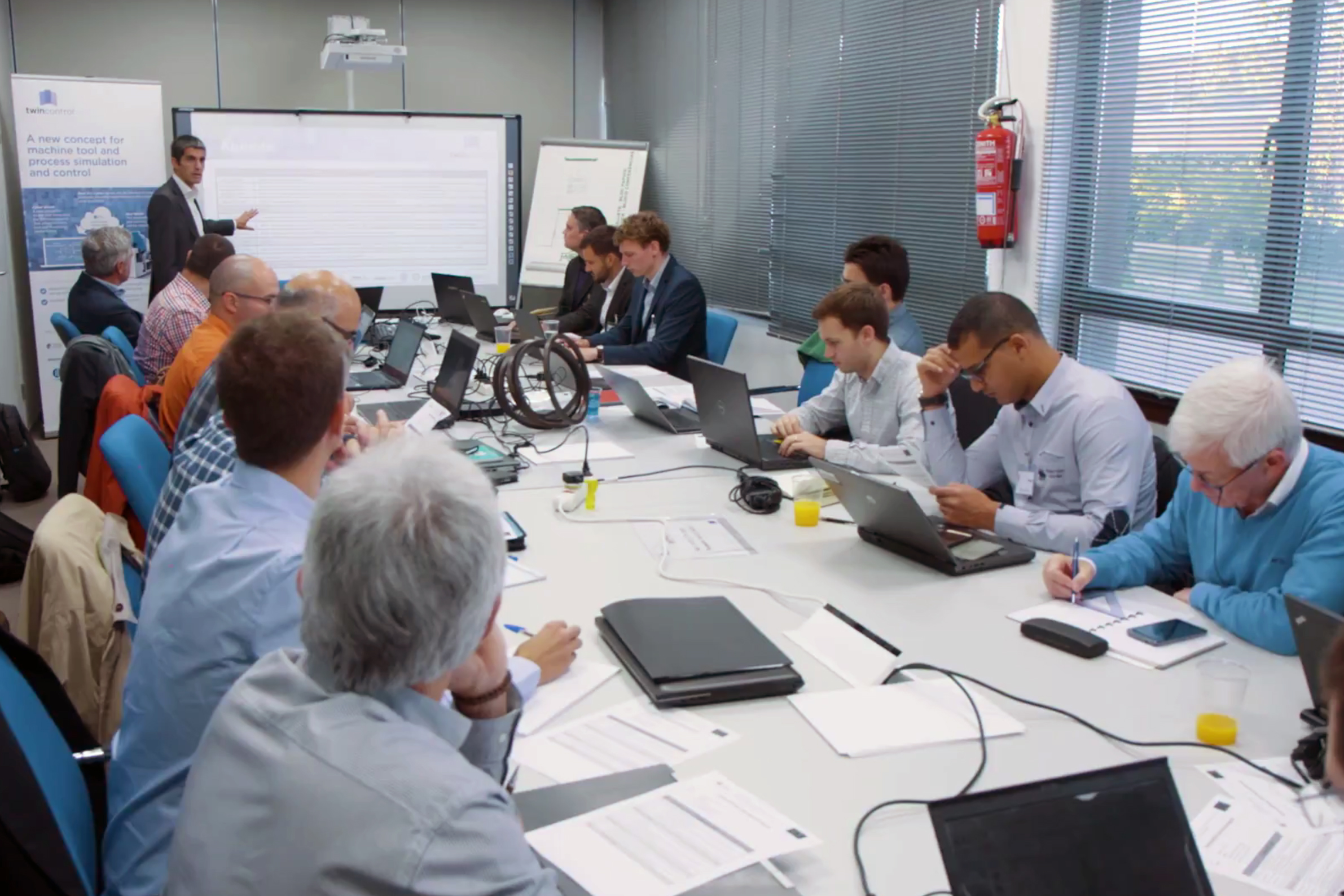 Twin-Control plenary meeting at MASA's facilities.
Twin-Control had very ambitious goals. Have they been achieved?
At the beginning, all the objectives faced by the project were theoretically fulfilled by a single system, called, of course, Twin-Control. However, after hearing end-users requirements it became clear that the development of different independent features with the possibility of grouping them was more interesting. This way, a set of results has been achieved that fulfils the defined objectives.
What will Twin-Control's exploitation strategy look like?
The different features developed within the Twin-Control project have been grouped in three main results: Integrated simulation tool (1), local monitoring and control system (2), and fleet management platform (3). A leader partner has been identified for each group and a complete exploitation analysis has been performed, including Business model, Market analysis, IPR definition…
Compared to 3 years ago, has the situation of machine tool simulation changed?
More and more tools are available in the market but they still show the same drawbacks: a lack of integration of the different features is missing. The concept of the "Digital Twin", closely linked to this project, is becoming really popular in this field.
What's been (or will be) Twin-Control's impact in the machine tool industry?
A complete industrial evaluation has been conducted in the last year of the project in two important sectors: aerospace and automotive. Twin-Control features have been implemented and validated in real machines of partners involved in these sectors. Result have been successful, and a great impact is expected for end-users at different levels: reduction of new machine tool and machining process design and set-up time and costs, improvement of process performance, reduction of energy consumption, reduction of maintenance costs…

Project partners observe a demonstration at TU Darmstadt facilities.
Entering the last few weeks of the project, which next steps do you foresee?
The last steps to finish the project is to complete the industrial validation activities, mainly by evaluating the impact of the implementation of Twin-Control. Of course, this work needs to be properly documented and presented to the EC representation at the Final Review Meeting that will be celebrated in RENAULT installations at Cleon (France), where demonstrators will be prepared.
Apart from that, the consortium has faced the additional challenge of publishing a book summarizing the activities of the project. In the next weeks, the last steps towards its publication will be performed.
Personally, is there an important conclusion or lesson you've achieved?
Due to the wide range of features involved in manufacturing systems performance, it is very important to have a multi-disciplinary team in which different persons can provide their expertise in different fields. This was the case of Twin-Control project and I am sure it has been the secret of its success.